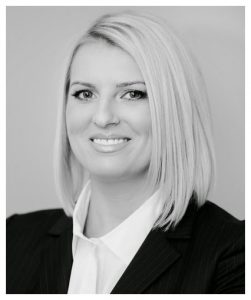 ALICJA M. SROKA is a founding partner of Alicja M. Sroka & Associates, which was founded in May 2013 and has seen phenomenal growth due to her expertise with a broad array of legal issues. Alicja's most specialized areas of practice include those related to the mortgage lending industry, bankruptcy filings and contested litigation.
Alicja received an undergraduate degree from DePaul University in Accounting and Finance. While an undergraduate, Alicja remained on the Dean's List each quarter, despite working full time as a Senior Loan Processor for Interbanc Financial Services and maintaining a full class schedule. Alicja's position at Interbanc exposed her to the intricacies of the mortgage lending industry: as she reviewed loan applications, assisted with closings and analyzed collateralized loans and mortgages.
Alicja continued working full time while at John Marshall Law School, where she was regularly placed on the Dean's list and obtained CALI awards for Bankruptcy and Real Estate Law. Alicja was a member of The John Marshall Law Review, American Bar Association, Student Bar Association, Evening Student Liaison, Polish American Law Student Association and Phi Alpha Delta.
During her second year at John Marshall, Alicja began work at Cutler & Associates, Ltd., where she became an active member of the firm's bankruptcy department after graduation, tasked with preparing Chapter 7, 11 and 13 filings. Alicja additionally participated in the firm's litigation department, distinguishing herself both inside the courtroom as well as outside with her persuasive writings and successes as a litigator.
Since founding her own practice, Alicja has taken great pride in being able to help people from all walks of life to achieve the best legal conclusions possible. Nothing motivates her more than being able to make a beneficial difference in someone else's life, and she is thrilled that she is able to work every day for the greater good.